stimulating emotional wellness
through ​sight, scent, touch


Shipping Orders Daily
or
IN-STORE shopping
​Swan Creek Candle Vermilion, Ohio
​
---
emotional wellness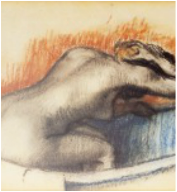 Emotional Wellness means we understand why we feel the way we do and choose to embrace our emotions rather than deny them.
​
Emotional Wellness also means we choose to live with an optimistic view of life and rely on our resiliency when facing disappointments and setbacks.

Did you know that pleasant aromas can have dramatic effects in improving your mood and sense of well-being? For instance, does the smell of freshly cut grass make you pause and smile? The reason is that aromas trigger emotions and memories. In fact, the tiny olfactory lobe (our sense of smell), is also part of the brain's limbic system, which manages emotions and long-term memories.
​
With this knowledge, consciously choosing well-designed soap, is a simple way to stimulate our senses for emotional well being. Not only does well-designed soap cleanse the physical body, it may also cleanse your emotional state-of-mind.

Cielo Soaps offers three distinct natural soap blends to stimulate the senses: rejuvenate - revive - restore.
Cielo Soaps are designed with all natural plant-based ingredients using the cold process method.
Only 100% pure therapeutic essential oils are used in Cielo Soaps.
After the soaps rest and cure for 28 - 35 days, their unique emotional wellness qualities are revealed.
---
rejuvenate

Calming lavender, frankincense, vetiver and benzoin ​team up to "take you away"
from everyday stress.
The "rejuvenate" collection rehydrates our emotional state of mind when we need to reflect and "right the ship."

revive

A favorite in the "revive" collection,
eucalyptus, valencia orange, and patchouli essential oils are a match made in heaven.
When you need a boost . . . choose a bar from the revive collection for
feeling fresh and enchanted.




restore

The "restore" collection is
sensual and exotic.
Yet, the earthy and woodsy scents are
steeped in groundedness.
These lusciously-enriched bars are intended to help maintain balance, confidence,
and clarity.
---
Nothing is more memorable than a smell. One scent can be unexpected, momentary and fleeting, yet conjure up a childhood summer beside a lake in the mountains.

– Diane Ackerman

Cielo Soaps contain only vegetable oils, other plant-based ingredients and extra emollients, such as shea butter, cocoa butter, and or sweet almond oil, which soften the skin. If you are pregnant or nursing, and if you are at all uncertain as to the safety of an essential-oil containing product, or any ingredient, please consult your doctor, midwife or health care professional. Cielo Soaps are all natural and gently scented with essential oils, but the choice is between you and your health care professional.